City Fire Codes
In an effort to better protect its citizens, the City of Hobbs has adopted the 2009 International Fire Code. You may view the entire code by clicking here, or a summary of items of interest below. To report a non-emergency fire code violation, please contact us. For emergencies, dial 911.
8.32.010 - International Fire Code—Adopted.
There is adopted by the City Commission, for the purpose of prescribing regulations governing conditions hazardous to life and property from fire, hazardous materials or explosion, that certain code and those certain standards known as the International Fire Code, 2009 Edition, published by the International Fire Code Institute, along with the following appendix chapters:

Appendix B, Fire-flow requirements for buildings;
Appendix C, Fire hydrant locations and distribution;
Appendix D, Fire apparatus access roads or as determined by authority having jurisdiction.



The International Fire Code mentioned in subsection A of this section, including the enumerated appendices, is adopted, saved and except such portions as are deleted, modified or amended by this chapter. One (1) copy is filed in both the office of the City Clerk and the City Fire Prevention Bureau, and the same is adopted and incorporated as fully as set out at length herein, and the provisions thereof shall be controlling within the City.


All references to Electrical, Mechanical and Plumbing in the International Fire Code are deleted and the blended codes as adopted by the New Mexico Building Code are referenced in this Fire Code.

(Ord. 923 §§ 1, 2 (part), 2004)
(Ord. No. 991, 6-16-2008; Ord. No. 1054, 4-16-2012)
Fire code requirements for assembly occupancies
Occupancy load
Smoke alarms in rental properties
Landlord/owner responsibilities
LP Gas and Charcoal Grills
Fire lanes
Fireworks
Recreational Fires
Overcrowding Prevention for Assembly Occupancies
Common Hazards in Bars and Nightclubs
Notify management if you notice any of these hazards:
Blocked Exits
No Exit Signs or Exit Lights Out
Doors Locked During Business Hours
Overcrowded
No Occupant Load Sign Posted
Tables in Exit Paths
Fire Extinguishers Not Present or Not Serviced
Candles on Tables in Unsafe Holders
Extension Cords in Place of Permanent Wiring
Decorations Not Fire Retardant Treated
No Emergency Lighting
Lack of Visible Address
The safety of our citizens is our number one priority. This is why every assembly occupancy in the City of Hobbs is required to comply with the 2009 International Fire Code, adopted by the City of Hobbs. These codes were adopted to prevent overcrowding and other safety hazards in bars, nightclubs and other establishments where many citizens gather.
Roles and Responsibilities of Owners and Employees
To protect the safety of you, your employees and your patrons, be aware of these fire code regulations.
Every bar and nightclub has an occupancy load that must be posted and maintained.
Every assembly occupancy is required to have a written fire safety and evacuation plan.
Assembly occupancies are required to hold 4 fire drills each year.
Every bar and nightclub is required to train employees in fire emergency procedures.
Assembly occupancies must show proof that an annual inspection has been conducted by the City of Hobbs Fire Prevention Bureau.
Helpful Tools for Assembly Occupancies
Occupancy Load
The International Fire Code, adopted by the City of Hobbs states that "every room or space that is an assembly occupancy shall have the occupant load of the room or space posted in a conspicuous place, near the main exit or exit access doorway from the room or space."
IFC 1004.3
The occupancy load must be established by a Licensed Architect, and is reviewed by Building Development Services for the City of Hobbs. The occupancy load allowance is based on occupant egress and other life safety factors. An occupancy load exceeding the posted maximum occupant load for an individual room or building shall be considered an unsafe condition and will be addressed by immediately reducing the number of occupants in the room or building, and may result in additional measures including the issuance of a court summons.
For additional information, contact the City of Hobbs Fire Prevention Bureau or the Community Services building division code enforcement at 575-391-8158
Smoke Alarm Regulations
The fire code adopted by the City of Hobbs requires that owners/landlords of rental property provide smoke alarms in property rented or leased or otherwise provided to the public for housing or sleeping accommodations. Smoke Alarm Regulations for Rental Property can be located at section 907.2.8 of the International Fire Code 2009. These code requirements are not intended to burden property owners but, rather, to provide a minimum of life safety protection to tenants.

Following is a list of responsibilities regarding the placement of smoke alarms in rental property and the relevant code references. These are the general regulations that cover the smoke alarm requirements for residential rental property. There are additional regulations which cover transient accommodations and other types of rental units. Please contact the fire administration office if you have any questions regarding your responsibility for the installation of smoke alarms in your rental property.
Sec. 74-271. Responsibilities of Owner
The owner of the building shall supply and install all required smoke alarms. The owner shall test and maintain in a fully operable condition all smoke alarms in common areas. No owner shall rent, lease or let any dwelling unit or room that does not have functional and working alarms at the time of occupancy. The tenant shall sign a statement signifying that all smoke alarms were in fully operative condition on the date of lease. The owner shall be responsible for providing each tenant with written information regarding alarm testing and maintenance. The owner shall not be liable for any damages caused from the smoke alarm being tampered with or disabled in any way by the tenant.
Sec. 74-272. Responsibilities of Tenant
The tenant shall provide and maintain functional batteries for each battery powered smoke alarm and shall not disconnect the electrical source from electrically powered smoke alarms. The tenant shall not remove or relocate any smoke alarm installed by the owner. The tenant shall test and maintain alarms within the dwelling unit or room and notify the owner or agent in writing of any deficiencies.
Sec. 74-273. Location
Smoke alarms shall be located to comply with the International Fire Code/2009, the International Building Code/2009 and the International Residential Code/2009.
Sec. 74-274. Quality
Smoke alarms shall comply with the standards set forth in the International Fire Code/2009, the International Building Code/2009 and the International Residential Code/2009
Landlord/Owner Responsibilities
The International Fire Code, as adopted by the City of Hobbs, requires landlords and property owners to take certain steps to protect residents of rental properties. While most of these codes only pertain to buildings with more than two units, the City of Hobbs Fire Department strongly urges landlords and property owners of all rental properties to follow these guidelines. Doing so could not only protect your investment, but potentially save lives as well!

Please note: some code requirements vary based on the type or age of your building. For more information on your property, contact the Prevention Division of the City of Hobbs Fire Departmen
Fire Extinguishers
Fire extinguishers can be in the common areas (hallways) or on the exterior of the building.
There must be an extinguisher on each level and within 75' of the front door to each apartment.
These extinguishers must be at a minimum 2A:10BC, hung properly with annual inspection tag.
Fire extinguishers can be in each apartment instead of in the common areas. The extinguisher should be located near the kitchen. These extinguishers must be at a minimum 1A:10BC, hung properly with annual inspection tag.
Smoke Alarms
A minimum of one smoke alarm must be installed in each apartment placed outside of the bedroom(s).
Properties built after 2000 must also have additional alarms laced on each level and in each bedroom. We recommend all properties follow these guidelines, regardless of age.
The building owner should test smoke alarms at least once a year.
Include a signed statement with lease stating you installed the alarm and the tenant must maintain it.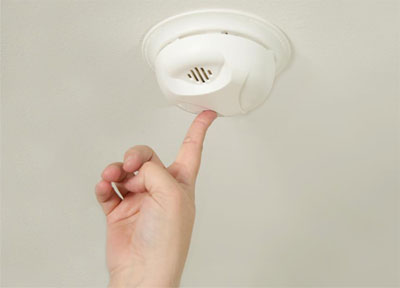 Sprinkler Systems
Sprinkler systems are the single greatest way to save lives and reduce property damage. While not all properties are required to install them, the City of Hobbs Fire Department strongly recommends all property owners consider making the investment.

If you have a sprinkler system, follow these requirements:
Make sure the system is annually tested and maintained by a qualified company, approved by the City of Hobbs Fire Department.
Check gauges for pressure on the system. Make sure control valves are in the open position (can be locked open or electronically supervised).
Sprinkler heads should not be painted or blocked by fixtures.
Make sure you have red sprinkler system tool box located on the wall near the riser include 6 extra heads and a wrench.
Fire Department Connections
Check that FDC caps are in place.
Can be plastic or locking.
Make sure access to FDC is not blocked and connection is in plain view. Have signage added if difficult to locate. There should be a 3' minimum clearance around FDC.
FDC should have current inspection tag.
Check the status of the fire alarm. Make sure it is not in trouble mode. Make sure it has not been silenced. Finally, ensure all lights are green.
Address and Apartment Numbers
Make sure address is visible from the street. Addresses should also be visible on the back of the building.
Make sure buildings are numbered or lettered clearly – should be at least 4 inches in height.
Make sure each individual apartment is numbered/lettered.
Exiting and Egress
Exit signs should be lit.
Check egress lights and exit signs for battery operation monthly.
Keep stairways free of obstructions.
Hallways and stairs should be lit at all times.
Make sure furniture and personal items are not being stored in the hallways. Combustible materials cannot be stored under stairs.
Exit doors can be locked from the outside for security purposes, but cannot be locked from the inside. The doors should require no special knowledge and one motion to open.
Internal hallway doors and stairwell doors should not be propped open.
Make sure fire escapes are in good condition and structurally sound.
Consider installing Knox Box for easy entry by first responders.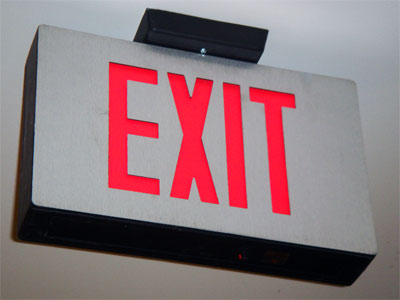 BBQ Grills
Must be located at least 10 feet from all buildings.
May not be used on balconies unless the entire building is protected by a fire sprinkler system, including the balconies.
Consider banning storage on balconies/breezeways.